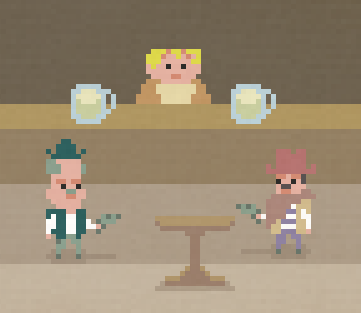 SONS OF THE HOLSTER
made for salt world winter jam 2013
this game is about getting into barfights with your friends in traditional deathmatch style, or a score-a-thon moneygrabbing gamemode.
(get the music! it's pretty great! https://chronosregex.bandcamp.com/album/sons-of-the-holster)
===============================
FEATURES:
- CUSTOMIZABLE GAME OPTIONS (CHANGE BULLET BOUNCE LIMIT AND TIMER DURATION)
- TWO GAME MODES (SHOOTOUT, CASH CRASH)
- TWO RUGGED REVOLVER-WIELDING COWBOYS
- NEXT-GEN RANDOMLY GENERATED BEER/TABLE TECHNOLOGY
===============================
UPDATE 1/1/14 - added keyboard support! play with two controllers, one controller and a keyboard, or one lone keyboard! the possibilities are unlimited!
UPDATE 1/2/14 - various bugfixes were pushed today. check your readme.txt to make sure you have version 1.5!
WARNING: THIS GAME IS A YEAR OLD, AND NO LONGER REFLECTIVE OF MY CURRENT WORK. IT'S VERY BUGGY!
===============================
Download
Click download now to get access to the following files: